Dexpan Non Explosive Demolition Agent is the most effective way for rock blasting, rock excavating, rock breaking, rock excavation. Bristol Library Project 2004
Dexpan is an alternative to TNT dynamite, explosive blasting, jackhammer, rock breaker, demolition jack hammer, hydraulic breaker, wrecking ball, diamond blade concrete saw, diamond wire sawing machine, chain saw stone cutter, rock drill and other demolition tools, mining equipments or quarry equipments.
Rock breaking and Rock Excavation have never been easier for all demolition contractors, blasting contractors, excavating companies, mining companies, quarrying contractors or even demolition DIY do it yourself users.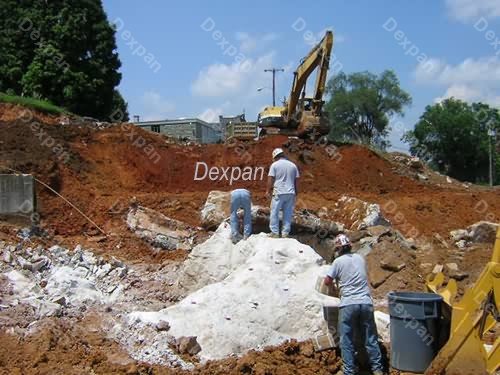 "Today we worked on an area that required non-explosive rock excavation in the area of the north courtyard. We drilled a large area of what appeared to be pinnacle or bed rock. The rock being very steeply sloped and irregular it is hard to be extremely accurate on yards, but the holes (varying from 6 to 10 feet) are easily measured. We drilled the rock on an 18" pattern. We used (39) 11-pound bags (429 lbs.) of Dexpan to fill 183.83 lineal feet of hole today. 1 trackmounted drill w/ operator worked 7 hrs. and 6 men worked approximately 2.5 hrs. to perform the necessary operations. An air compressor was also used to clean rock surface and holes before filling. Jessie Scarborough from S&ME was on site monitoring operations.".